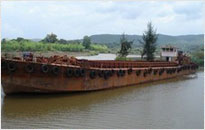 Jetties are an essential part of the mining industry today as the ore from the mines is transported to the river jetty from where it is carried to the harbour for onward transfer to ships. Inland waterways are an environment friendly and efficient means of ore transportation. Today PTI owns four river jetties for loading inland barges in South and North Goa. The jetties can handle up to 5 MTPY of ore.
South Goa:
Capxem jetty
Xelvona jetty
Barge loading: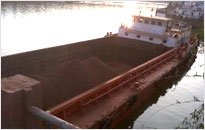 Loading of barges is done at the jetty, after which the ore is carried to the ships. The cargo is weighed prior to being loaded onto the barges. It is then loaded onto barges with a carrying capacity of 750 to 3000 tons, with the help of tipper trucks.
The jetties have a stacking capacity of 500,000 tons. Samples of ore for grading are drawn during the loading process.