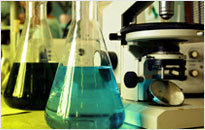 Quality control is an essential part of the planning, production and blending at each stage of the process. Blocks are identified quality-wise, during exploration and planning, and they are separately handled. Ore is also segregated and stacked during mining, transport, during and after processing, based on quality.
Quality planning, monitoring and control comes into play at every point of the mining process, right from conception to export. The quality of iron ore from the mines (i.e., from production to shipping) is continuously monitored through close coordination between the various operating divisions.
PTIs special team of experienced geologists, chemists, mining and mineral dressing engineers keep a close watch on everyday production and sampling to ensure that size, moisture, ore treatment, stock piling and blending is done maintaining quality standards. Quality control also includes monitoring and analysing silica, alumina as well as phosphorous in addition to iron.