Exploration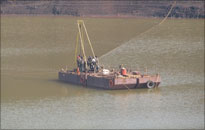 Once a mineral deposit has been discovered, the property containing a deposit, called the prospect, is explored to determine some of the more important characteristics of the deposit. Among these are its size, shape, orientation in space, and location with respect to the surface, as well as the mineral quality and quality distribution within the given area. Geophysical prospecting and magnetometer survey is carried out as a part of prospecting.
Exploration at PTI mines is carried out through the bore hole drilling method which involves drilling of bore holes at 50 meters and 25 meters grid intervals. In first phase of drilling, 50 meter grid interval is maintained. 25 meter grid interval is applied depending on geological formation of strata. Float/Pontoon drilling has been used at the Codli Mine, Pit No-6, where the size of the core is 64 mm for Nx type of bit and 42 mm for Bx type of bit.
At PTI, the entire core is retained in metal core boxes for long term storage as a part of a special core library at the Shigao site. Here, core boxes from every PTI mine have been stored systematically and have been analyzed for Fe, FeO, SiO2, Al2O3, Mn, S, P and LOI based on its grouping.
Resources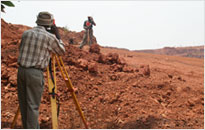 At the end of every working season the Geology and Survey department calculates the available reserves within every mine. This measure of the available resources is then updated at the end of every year based on the data gathered through exploration.
Estimated Ore reserves at PTI mines as on May 2010 is about 75 million tons.
Research and development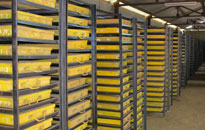 Mineral beneficiation plays a vital role in utilisation of low grade minerals and helps in achieving the goal of zero waste mining and value addition. At PTI, a team of experts in mineral processing have been successful in formulating a technology that allows low grade ore of less than 48% to be better used economically. Also efforts are being made to beneficiate low grade siliceous ore and manganiferrous clay. For beneficiating and adopting new technologies to upgrade low grade ores, assigned labs, pilot plant testing works and R&D labs like ISM Dhanbad, IMMT Bhubaneshwar, IBM Nagpur, and NML - Chennai are used. Based on these results plans to erect a commercial plant of 2 MTPY are underway.